November 20, 2003 – February 8, 2019
TC MACH4 WTCH Alouette's Dances With Turick
RN HIAds HXAdsc HXBd MXB2 MJB2 MXF RATN RTDsc PATDsc HRD III
ABMC Register of Merit First Class
ABMC Halls of Fame in Herding & Agility
ABMC OFA Champion of Health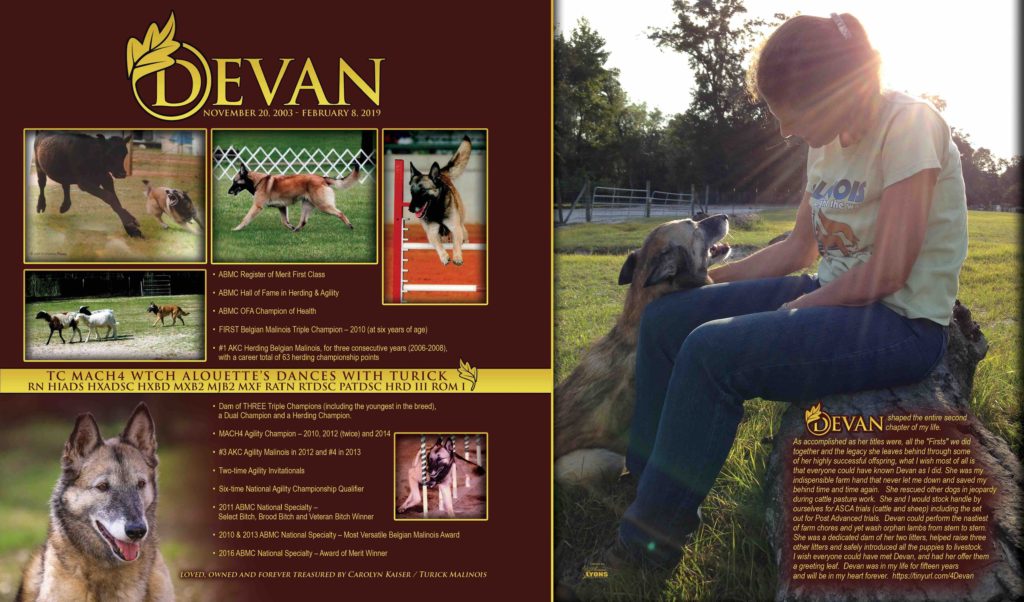 Devan was the first Belgian Malinois Triple Champion at the age of six in 2010, and was dam to three other Triple Champions (including the youngest), a Dual Champion, and a Herding Champion.
Devan was the #3 AKC Agility Malinois in 2012, #4 in 2013, made two trips to the Agility Invitationals, and qualified for the National Agility Championship six times.
Devan was the #1 AKC Herding Malinois for three consecutive years (2006-2008) and had a career total of 63 herding championship points.
Devan was the Most Versatile Malinois at the 2010 and 2013 ABMC National Specialties. At the 2011 National Specialty she was Select Bitch, Brood Bitch, and Veterans Bitch.  At the 2016 National Specialty she received an Award of Merit.   Devan's other ABMC awards included the Register of Merit First Class (2007), OFA Champion of Health (2013), and entry into both the Herding and Agility Halls of Fame.
Devan was a Breed Champion (2005),  an ASCA & AKC Herding  Champion (2006 & 2008), and a MACH4 Agility Champion (2010, twice in 2012, and 2014).